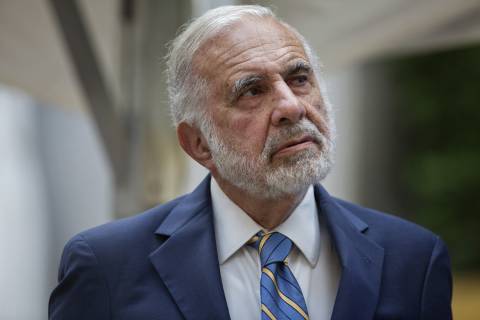 Icahn Calls Southwest Gas Move 'Desperate' Defense Strategy
(Bloomberg) -- Billionaire Carl Icahn is calling Southwest Gas Holdings Inc.'s move to consider a sale after getting an indication of interest from a potential buyer a "desperate" defense strategy to thwart his efforts to take over the utility owner.
The incumbent board and management team aims to do "as little as possible to try to win the proxy contest while at the same maintaining full optionality to further entrench and enrich themselves," the activist investor said Tuesday in an open letter to Southwest Gas shareholders.
Icahn's letter comes a day after Southwest said it is reviewing strategic options after getting an indication of interest from a potential buyer that's "well in excess" of Icahn's latest offer of $82.50 a share.
The conflict dates to October when Southwest Gas dismissed Icahn's objections and moved forward with a $2 billion pipeline purchase. Icahn has slammed executives of the Las Vegas-based company for underperformance, while the utility has said his offer is inadequate. As part of his fight, Icahn has nominated a slate of directors to replace the entire board.
Icahn's letter aims to cast doubt on the validity of the sales process. He said that Southwest Gas "neglects" to tell investors that it could take at least a year and a half to complete any sale, given regulatory approvals, and that it's disclosing "little or no information" on the process, as well as on price, timing or the potential buyer.
"Ask yourself: do you trust this board and CEO to have carte blanche to do the right thing for the next year and a half when they have never done the 'right' thing before?" Icahn said in the letter, urging shareholders to back the directors he has chosen.
Southwest Gas reacted to the letter by issuing a statement reiterating its position, including that Icahn is welcome to be part of the sale process.
"Our one and only objective is to maximize value for stockholders by expeditiously conducting a review of strategic alternatives," the company said, adding that the only "preferred buyer" will be the one that provides the best value for investors.
Southwest Gas shares rose 1.7% to $89.71 at 12:08 p.m. in New York.
(Adds Southwest Gas comment from seventh paragraph.)